Hi guys!  Guess what?  We finally finished the floors in W's room!  They turned out really nice, although we went in a completely different direction than where I thought we would go.
It is actually luxury vinyl plank tile.  Let me tell you how we ended up putting vinyl tile in a bedroom.
When last I left you, we had just finished ripping up the carpet in his room.  Then, our plans for this room went a little pear shaped.  W wanted dark wood floors.  Michael wanted light wood floors, which we will eventually have in the rest of the house.
Believe it or not, I actually wanted to put down carpet again.  Here's why.  Those floors were uneven as heck.  I knew that whatever we did would have to be a DIY job- we just can't afford to pay someone to come lay hardwood floors.  We've put down laminates before, but in our old house, which was newer and had even, plumb floors- this house would be a serious challenge for us, and I didn't want to mess it up.
Also, I knew that whatever we did, we wouldn't be able to get it to match the floors in the hallway- and I firmly believe that whenever you have two different floors by each other, you should go for style and contrast.  They should go together, but not necessarily match.  Our kitchen flooring is a great example of that- the sheet vinyl is fake hardwood to try to match the hardwoods in the living room and it would have been so much better if they had gone for a contrasting pattern or color instead. Because really, who are you fooling?
One more thing.   I kept picturing a herringbone pattern in there, stained light gray, from hardwoods.  Then, I thought, "We could totally do that from plywood!" Then I remembered-uneven floors.  How long it would take to stain the floors.  The fumes that would waft through our house while we did that.  It's not like we can just pack up and leave.
Ugh.  Sometimes practicality stinks.
So I recalculated to carpet. But W and Michael were having none of it.  And I can't blame them really.  Because there is still this, and he totally shows carpet who is boss:
In the meantime, Michael's friend at work put the idea of luxury vinyl tiles in his head.  And I immediately said, "No!  You don't put vinyl tiles in a bedroom!"  But then, you know, casually, I popped on to the Lowe's app, just to see what they look like.  And this was what we found: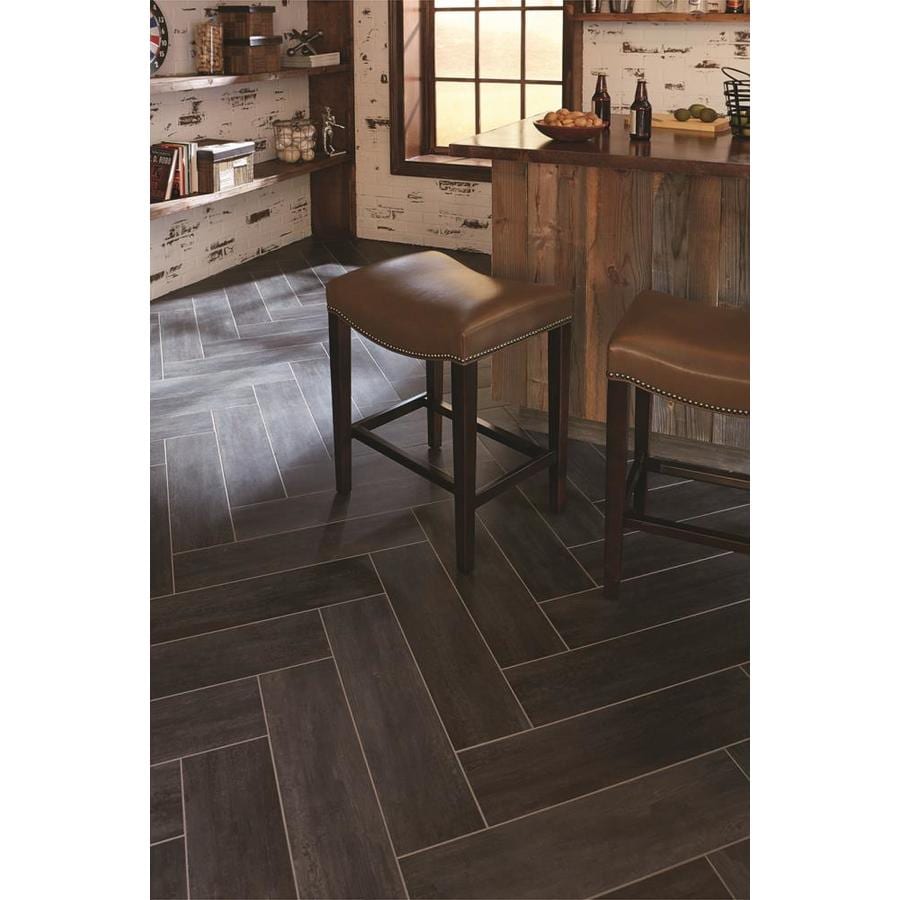 The more I looked at it, the more I liked it.  It's practical.  The shape is nice, and has lots of design possibilities.  Do you see the herringbone?  Not exactly what I was picturing in my head, but close enough.  And also, it was on sale for $1.15 a square foot.  So we could do W's whole room for around $300. And, I've installed lots of vinyl tile floors.  Flooring installation doesn't get much easier than vinyl tile.
(Did you catch the foreshadowing there?  I just dropped a pile of it.)
I showed it to W, and he loved it.  Michael loved it.  I am totally, completely, okay with it.
Here is what we ended up with, with a bit of a grout haze still (I got excited and took the pics before I washed them down for good, and the lighting washed out the color- they are really much darker, just like the pic above in real life):
I mean, clearly, we're not fooling anyone into thinking that those are wood planks, but that's not what we wanted with this.  Eventually, all of our wood floors will be completely refinished, but that will be years away- and when we do, maybe we'll go ahead and install wood floors in here.   This just a really nice, stylish floor that should hold up for a long time.  More importantly, W is really, really happy with it- and that makes me really happy 🙂
In the next post, I'll talk about our process (not perfect FYI), how we had some bumps in the road (ahem), our budget breakdown, and a neat trick that saved us a lot of time grouting.
Don't forget to Pin this post! 🙂