Today I thought I would try a new series of posts called What I Want to Try.  Kicking off the series: wallpaper!
I loooove wallpaper!  I've said it before here, but the right wallpaper is just like gorgeous artwork for your room.  It can make a beautiful statement all on its own, or serve as a lovely backdrop for the rest of your room's design elements.
That said, I've never actually hung wallpaper before, and I've definitely been guilty of removing my fair share.  And tons of border (ever try removing border from twelve foot ceilings?  That, I think, was the first thing that we did when we moved in here.  It's pretty miserable, by the way, but totally worth it).
So why haven't I tried wallpaper yet? The process of hanging it kind of scares me a little bit…and it's one of those projects that I just wouldn't want to pay someone to do-I'd totally want to DIY it.  So I just need to bite the bullet and do it!
Here's some wallpaper I'm loving!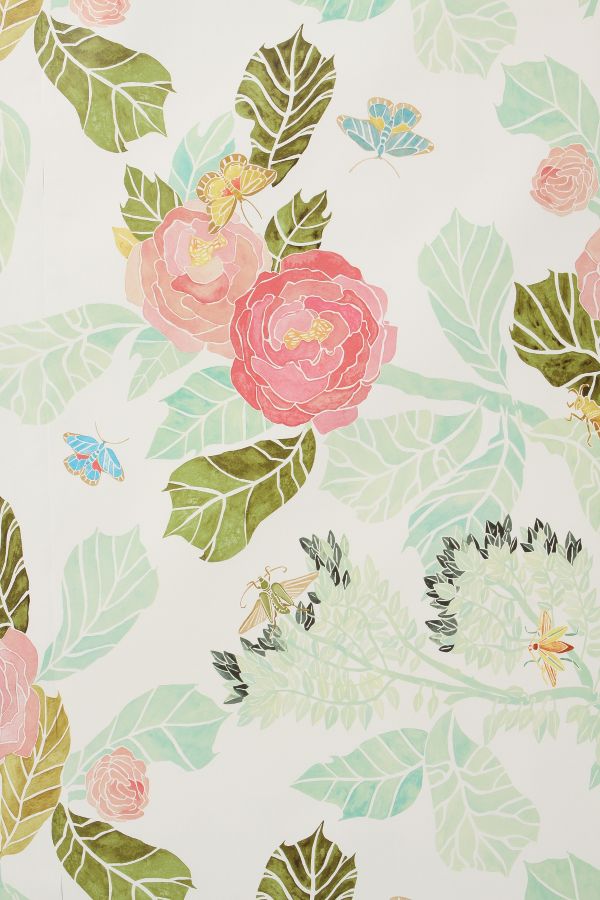 I've been lusting after this wallpaper for awhile.  You usually see this used in little girl bedrooms or nurseries, but I've thought about using it in the kitchen and also in the bathroom.  It is made for a cottage or farmhouse look.  Just look how perfect it looks here:
This wallpaper…just shut up! I mean, I said that I loved that peony wallpaper for my kitchen, but this is really what my kitchen dreams are made of.  With blue board and batten below.  Or maybe white.  Does it matter?  This wallpaper would steal the show, regardless.
I love the bright, cheery design of this wallpaper, and kelly green and white gets me every time.  The website shows this in their kitchen/dining room section, but I'd put it in a mudroom or entry.  It would brighten your mood every time you walked in the door!
(By the way, the wallpaper on this website is very reasonably priced- I've never used it before so obviously can't vouch for its quality, but the prices are very good, and I loved many of the designs.)
There's something about this moody and dramatic wallpaper that speaks to me.  I mean, speaking of art- this wallpaper by Ellie Cashman really is art.  I think it would be incredibly romantic in a master bedroom.   Balance it with straight lines, some modern elements, and plenty of light.
Cole & Son FONTAINBLEAU ROSE
Love, love, LOVE this wallpaper!  I actually had this in my design plan for my master bathroom in our old house before we decided to move.  This was the image that made me decide:
This one is such a good example of how you can't judge wallpaper by a small sample.  I mean, look at this:
It looks cute in the sample, but LOOK at it in a room:
And look how great it looks in a much more traditional space as well:
Sooo….which one is your favorite?  Don't forget to pin this post for later, when you're wallpaper dreaming like me 🙂