Today is the second installment of What I Want to Try, and we're talking tile today-specifically, beautiful patterned tiles that make an impact.  I'm talking tiles that stop you in your tracks when you see them, make you catch your breath, make you want to slap your mama tiles (sorry Mom).
What has me thinking about them is that I've been pondering the flooring in our mudroom and laundry/bathroom lately.  There's nothing really wrong with it- it's just sheet vinyl that the previous homeowner put down to try to match the rest of the home's hardwood-but it's just not attractive. It's not a huge area, so it wouldn't cost that much to change it out.  Plus, it's the first room most people see when they enter our house.  What better  space to try something really splashy?
Affiliate links included- disclosures
I love the colors and pattern of this beautiful tile.  Although I would be hesitant to use this much pattern in a very large space, I think it would be perfect in a smaller space or used as a backsplash.  I love that it is colorful, but still muted.  I could easily see this in our mudroom and laundry/bathroom area.
That tub!  Come on now!
Okay, this company has a beautiful product, but does not do a great job of styling it, because there were not any pictures online of this tile in actual rooms, but stay with me.  Imagine this in an all white bathroom, mudroom, or sunroom!  Or even…all black or gray.  It would be a showstopper.  It is a cement tile, so it would have natural variations that would just add to its beauty and probably give it more depth than what is represented here.  Aqua is my favorite color, the one color that I've carried through to almost every room, and I don't think I would get tired of these floors.  If these were in my mudroom, I might stop and pet them every day when I got home.
Sorry for the teeny tiny image.  So I love a good buffalo check- who doesn't? They can work with so many different design styles- not just vintage/farmhouse/country, but transitional, traditional, and even some modern design as well.  Check out this design from Mindy Gayer:
What a cool idea to use this on the wall!
I could not find an image of this tile in a room (what is with these companies and their styling?) but man I love this tile.  That little bit of pink is just perfect.  Just enough to be feminine but not overpowering, and balanced just perfectly by the dark grey, which to me reads navy.  The pattern, the colors…love this one.
Shut the front door!  Did you know that Home Depot carried beautiful tiles like this?  Here's another one:
I could definitely see the blue and white in my mudroom.
Here's another beautiful blue and white tile, this time from Wayfair: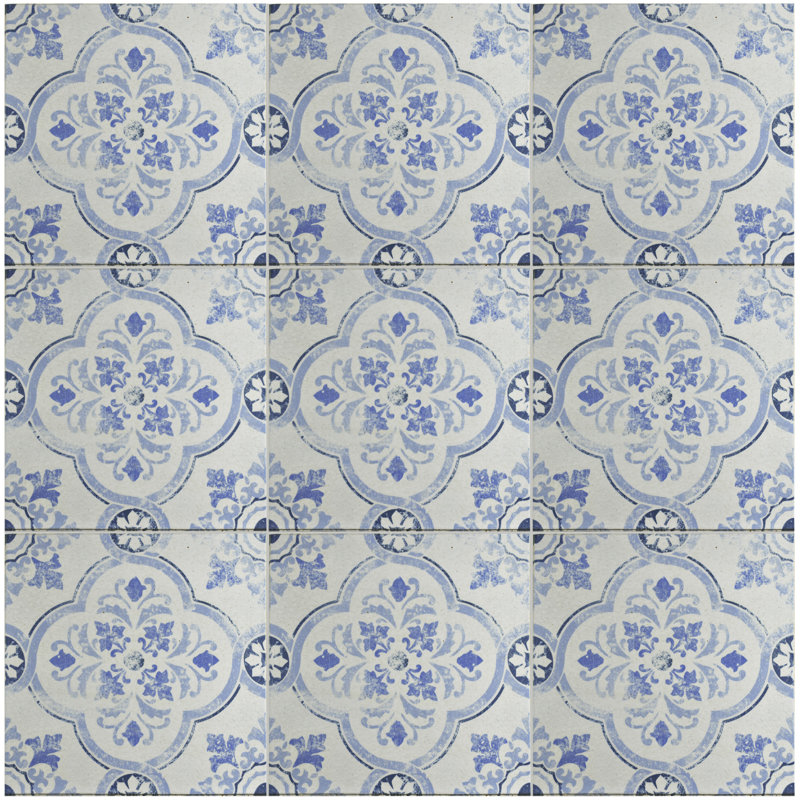 I'm loving this black and white tile, also by Wayfair: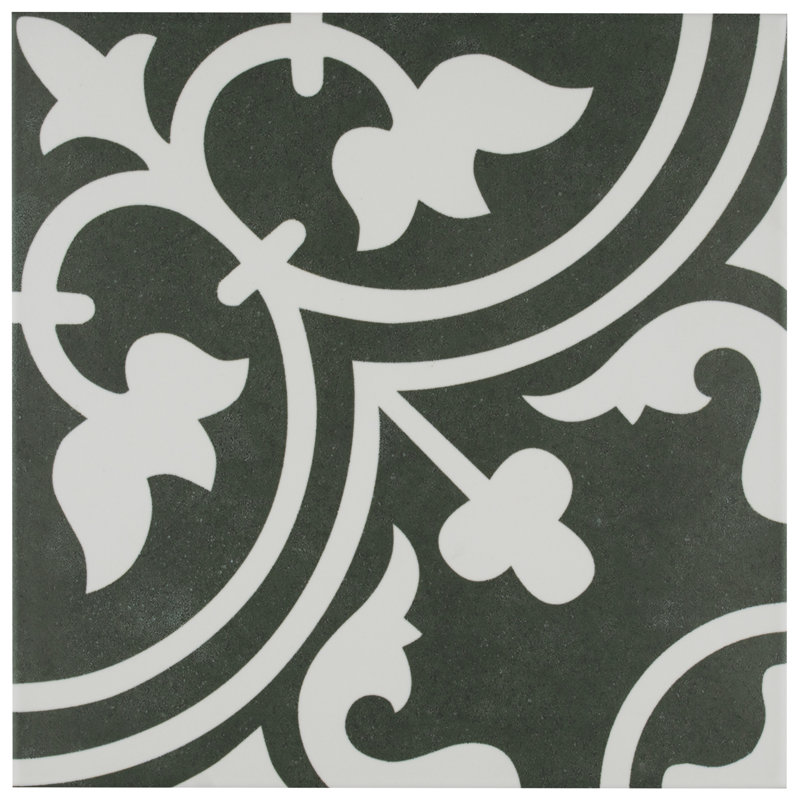 This pattern!  Those colors! From Wayfair.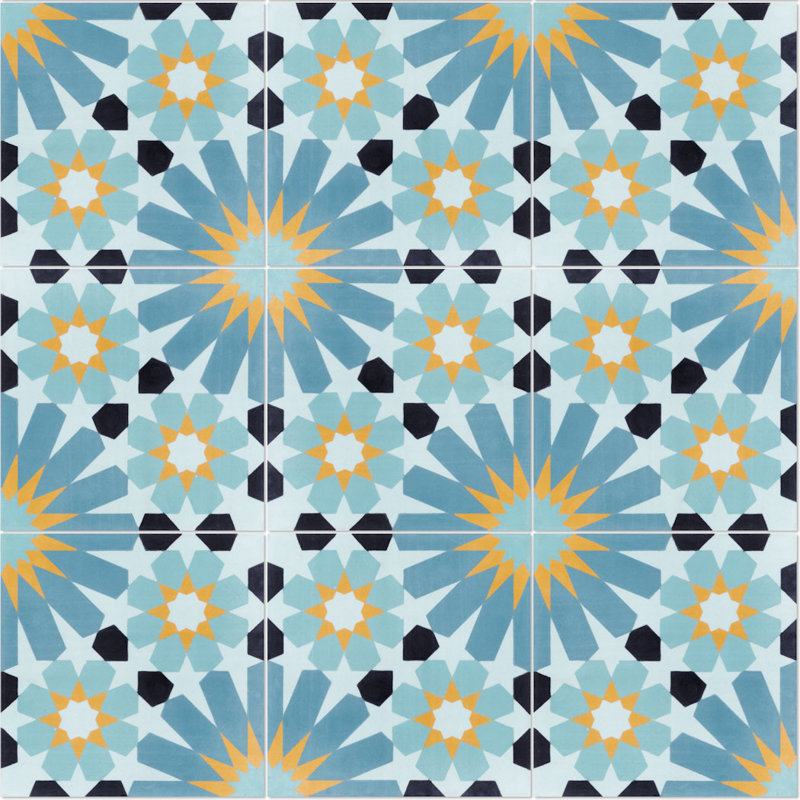 I'm a sucker for star shapes.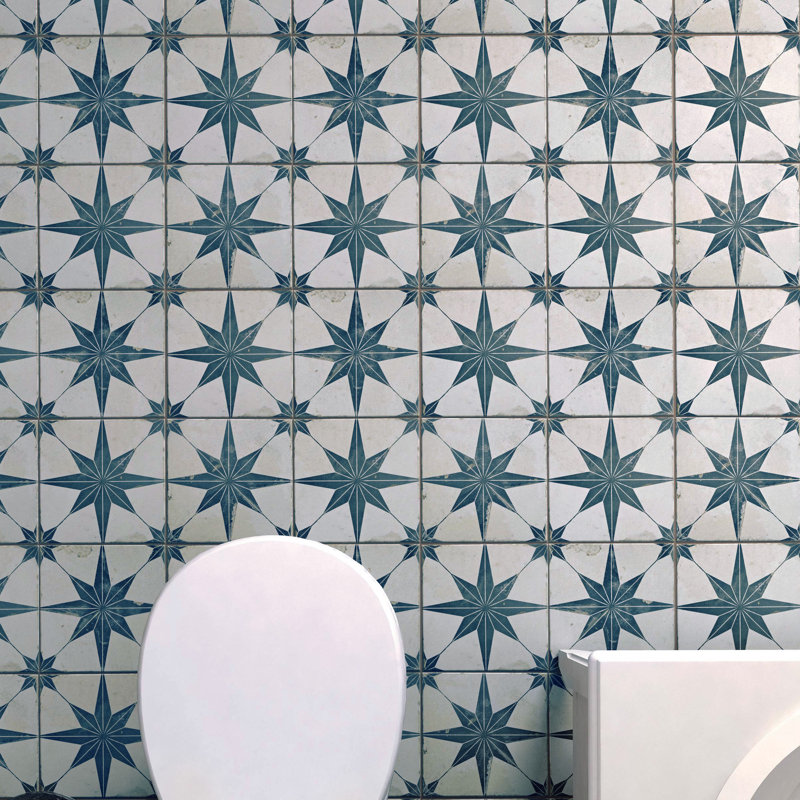 And for a nice patterned look that is still a little more subtle: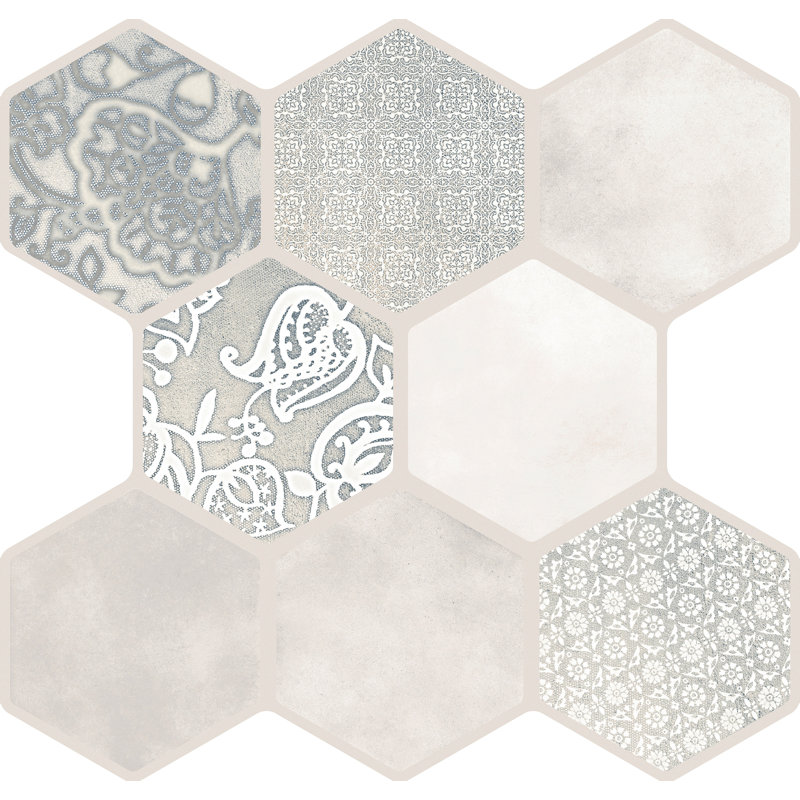 And all the hex tile…
I love hex tile.  I love simple black and while hex tile, and I love super colorful hex tile with intricate designs.
Check this out.  How cool would this be for an entry?
These two pics kind of remind me of a mullet.  Business in the front, party in the back.
Mullet reference notwithstanding…. those little flowers- so cute!  If I did this, I might do little pink centers in the flowers. Just to give it a little something extra.  #Elle
So…which one is your favorite?
Check out my design galleries for more inspiration for your next project!