Hi guys!  So we are moving right along with our coastal farmhouse master bedroom– some progress to report this week, especially with the fireplace!  Actually, updates with the fireplace, the window coverings, the paint, and linens!
The fireplace
This post contains affiliate links- read my disclosure policy here.
So…good and bad news.  The good news is, the tile for the fireplace came in and we installed  it.  And it is beautiful.  Really…just gorgeous. My poor photography skills don't do it justice.  It's this tile, and I ended up ordering it from Amazon because my first choice tile from Lowes all of a sudden went up in price to almost $15 a square foot, and I just couldn't pay that much.  The tile that I ordered from Amazon had near perfect 5 star reviews, and the quality is perfect.
I still need to grout, which will be white, but that will be an easy project.
I can't recommend this beautiful tile enough.  I am just so, so pleased with it, and it is almost half the cost of my first choice!
I'll do a tutorial on the install soon, I promise.  It was not difficult.
The bad news on the fireplace is, the mantel. I'm going to have to do something about it.
I just can't handle the color of it, but mainly, it's the grain of the wood that is really bothering me.  It's so prominent now after the tung oil treatment that it's hard to notice the other beautiful details of the mantel.
I'm thinking about painting the mantel white, but Michael wants me to stain it dark…which was my original plan.  I'm not sure why I now want to paint it white.  Maybe seeing the marble hex tile.  What do you guys think I should do?
Window coverings-coastal farmhouse style!
So I finally decided what to do with the windows!  I've ordered bamboo shades for both.  They had to be custom, of course, because of the size,  so it will be another week or so before they come in.  I ordered the Woven Wood Shade from Blinds.com in the Antiqua Natural shade.  I ordered them site unseen- no sample- because I walk on the wild side of home design 🙂 But I did see this image on their website of them in another blogger's home (Shelley from Crazy Wonderful) and it was exactly what I've been picturing: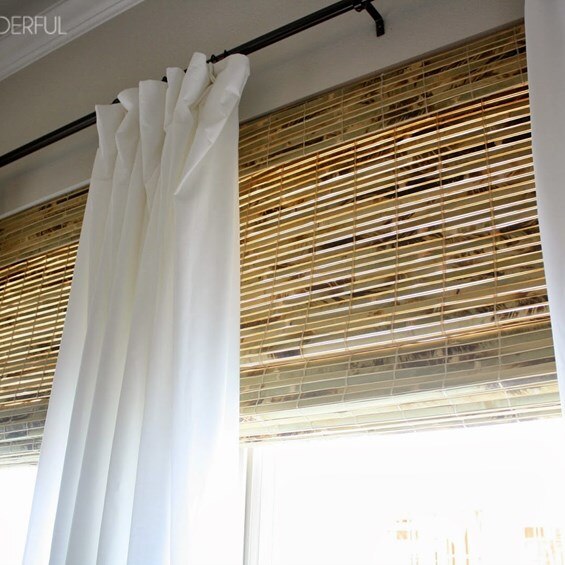 I'm still thinking no drapes because I really want to highlight to window trim, which is now pink.  Speaking of…
The paint!
Want a sneak peak of the paint?  Here you go!
I'm a little bit in love with the dark ceiling.  I've been wanting to do this since we moved in.  I actually wanted to paint the ceiling in the master of our last home dark, but didn't because they were much lower.  Yes, I know it's trendy. I know it will probably be played out in a couple of years.  But this is one of those things, like white walls, that I love so much that I really don't care what direction the trends go, or if it lands on the list of "10 things that scream 2017" in 2018.
Besides, painting that ceiling was a you know what.  I'm not doing that again anytime soon.
And the pink trim.  I really, really like it.  And Michael does too.  I think it's the perfect shade for this room, for now.  And it fits in well with the other design elements of the room.
Finally, the linens of our coastal farmhouse bedroom…
I'm only showing you the pillows that I picked out.  The bedding ties everything together and if I show you that I might as well do a full room reveal! 😉  But here are the pillow covers- they're from a shop on Etsy called PillowTime Girls.  My sweet friend Ashley at Project Allen Designs worked with them on a project and raves about their quality, and she's right- I got these pillow covers in the mail this week and they're amazing.  I can't wait to see them all styled out in the room!
So there's the latest!  Still to come- I need to find a side table, figure out what to do with the mantel once and for all, build an art work ledge (kind of added that project on), grout the fireplace tile and figure out what to do with the mantel once and for all.  Oh, and an art project with the star above the fireplace.
Let me know your thoughts in the comments!