That may have been the hardest I've ever worked to try to make a topic sound exciting.  Ceiling fan light covers- yawn!  Really though, I am kind of pumped by what a small difference just changing out the ceiling fan light covers on our fan-plus a little paint on the fan blades- made on our outdated-yet still perfectly functional- ceiling fan in our master bedroom redo (here's a progress breakdown).
The before
Our ceiling fan before was super boring.  Typical ugly and outdated ceiling fan light covers and awful fake oak fan blades.
Sorry for the terrible iPhone pic on a cloudy day.  Which I clearly did not think to take while the fan was turned off.
You can see from that pic that I was already considering which light cover to try out- notice the difference between the three old ones and the new fresher one?
I didn't want to buy a new fan.  That one works great, plus the ceilings are so high, I was really not looking forward to having to change it out.  I knew an update was all that was needed.
The solution-new ceiling fan light covers and paint!
I got our new light covers at Lowes.  You can't find them in the ceiling fan section- they're in the lighting section with the replacement covers for the bathroom vanity lighting.  That's because they're really for bathroom vanities.  Here's the one that I bought: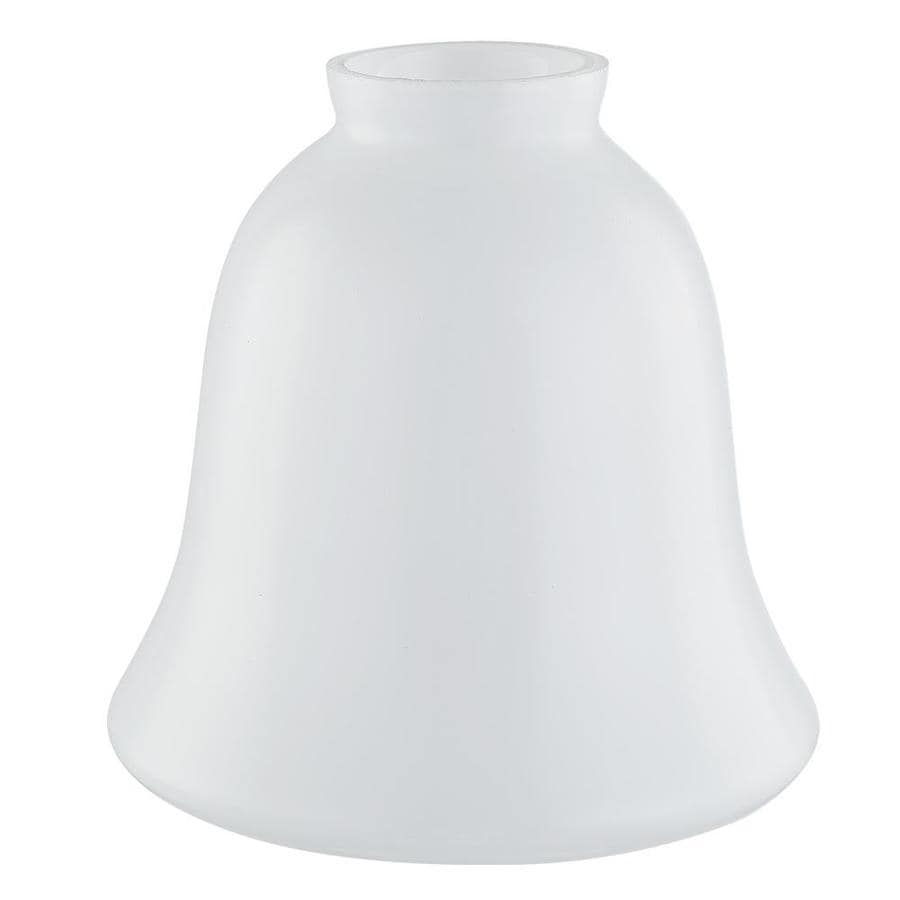 So I bet you're wondering how this fits, since it's not really made for ceiling fans, right?
Well, one reason I waited awhile to post this was to try it out and see.  The fit is perfect, like it was made for the ceiling fan.  And we haven't had any trouble at all since we hung it, and that's been almost a month now.
One thing I really like about using these light covers is that there are a million different options.  If you shop for ceiling fan light covers (although usually you find them under the term "ceiling fan fitter shade") most of your options are pretty limited.  They're super ornate, super country, and just generally not my style.  I think the light covers are half of what gives ceiling fans a bad name.
However, there are many more options for bathroom vanity light covers.  Modern, coastal, farmhouse, ornate-the possibilities are endless.  If Lowes had this many options, imagine how many a lighting store would have!
I would advise you to do as we did and just buy one to make sure it fits.  Try it out for a couple of weeks (which is what we did) to make sure that you don't have any issues with it.  And of course, make sure that the fit is secure, just like you would with any ceiling fan light cover.
Another bonus- these are cheaper- about half as much-as the ceiling fan fitter shades that I was pricing online!  Yay for saving money 🙂
Paint
The next thing we did was simply to paint the blades.  I wanted to make them look a little more modern, not black, but offset from the ceiling just a touch.  Michael just removed the blades from the fan (they are screwed in at the base of the fan) and spray painted them with some leftover oil rubbed bronze that he had.
We did not paint or alter the metal finish.  The terrible quality of the iPhone pic, plus a kind of dark and dreary day, in the before makes it look darker than it really is- which was another reason I wanted to save the fan.  I am using filters on the after pic to help make the light covers easier to see against the white walls, but the finish is pretty representative of real life.  I like the metal finish and didn't see any reason at all to change it.
The after
Ready to see the after?
Not a bad update.  The paint is actually a good bit darker in person than what I was able to capture on camera-it definitely reads more brown here and is more charcoal in person.
The light covers cost us around $10 apiece, and we already had the paint, so we invested $40 plus around 30 minutes of time in this project.  One of the best parts, besides saving money, is the time and effort we saved from not having to change out the fan!  I am definitely pleased with the end result.
PS- Want to see how our master bedroom redo turned out?  Click here!
Don't forget to Pin this post, and share with a friend who may be interested 🙂