Hi friends!  Thanks for all the love on our spring home tour! That was such a fun post to shoot and write!
One of the rooms that got the biggest change for spring was the living room, but really the only change that I made was to update the throw pillows.  However, that update made a HUGE difference in how the room felt.  Here are the pillows that were in that space before:
Those throw pillows are very textural and definitely have a fall/winter vibe.  Plus the dogs had chewed several of the corners off so there's that.
I updated the space for spring by changing out those throw pillows.  This involved using pillows that I already had in another space but rotated into the living room, changing the pillow covers, and making my own pillows.
Updating with throw pillows- 3 ways, 3 price points
*Affiliate links included.  This means, at no charge to you, I may make a small commission on product clicks or purchases from links in this post.  Disclosures here.
Change out what you already have
The big blue and white pillows were the ones that I had originally bought for the master bedroom redo. We weren't using them as much in that space anymore, so I just moved them to the living room:
Those are pillow covers on an insert.  I bought them from Etsy, and they are the highest price point: $45.  They are beautiful and very high quality- definitely worth $45.   However, for me, $45 for a pillow cover is a lot.  I definitely can't spend that much money on all of the pillows that I want to buy.
Price point- High for initial investment- but free if you are shopping your home!
Inexpensive pillow covers
I knew that I wanted a smaller square floral pillow with bright colors to play off of the blue and white ones.  I found some beautiful pillows that I loved on Etsy: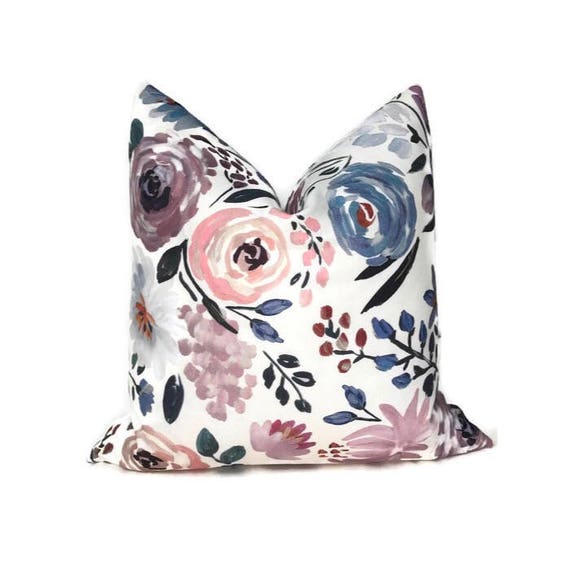 The colors were maybe just a bit more muted than I had been envisioning, but I knew that how they were styled would make a big difference in how they read.  Putting this pillow with the blue and white, with other light and bright touches, would make it read as a spring pillow.  However, adding it to the old cream colored pillows I was using would definitely make it read more fall/winter.  This would be a fabulous transition pillow!
But, it was way too expensive- $60 for the size that I wanted.  I'm sure it's worth the money, but I just couldn't spend $120 on throw pillow covers.
So, once I had this in my head as my inspiration pillow, I turned to Amazon.  I've had tons of luck finding inexpensive home decor items there.
A quick search for "floral pillow cover" turned up these beauties– for $13 for both!
Now that's what I'm talking about! I also bought new inserts ($21 for two). So, for a total investment of $33, I had two beautiful new throw pillows!
I cannot recommend those pillow covers, and inserts, enough.  The covers are so soft and very high quality.  The inserts are down, so they're soft and squishy.  We fight over who gets to use those pillows!
Price point: Medium
Make your own throw pillows
I also wanted a smaller rectangular pillow, striped, to round out the florals.
Remember my post on how to make pillows without sewing? I brought out that trick again to make these pillows, from place mats:
That pillow took about 10 minutes to make, and I used poly-fill that I already had- so total investment: $5!
Price point: Super low
Bonus!
So let me show you this pillow, also on Etsy: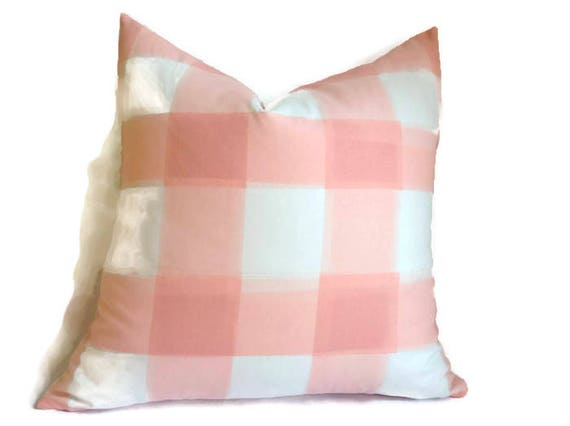 I love that pillow so.much.
But again, it's more than I can spend.  Then I remembered that I had the shams from the buffalo check bedding in my bedroom!  I decided to wrap them around the old cream pillows to see  how they look:
And oh-my-goodness I love them!  Plus, they bring in the buffalo check from the mudroom.
So, I'm deciding what I want to do with those. It would be super easy to use some fabric glue or Stitch Witchery to turn that into a throw pillow cover.  But, I may want to use them in the bedroom one day (you never know) so I haven't done that just yet. For now, they're still on the couch, and we're cozying up to that pillow every day.
Price point: Free!
Throw pillows
Changing out your throw pillows is such an easy, inexpensive way to freshen a room! Give it a try, and see what a big difference it makes in your space!