For the last few months, one of my most popular blog posts is this one, about our experience with using groutable peel and stick vinyl tile in my oldest son's room.  And this post details why we chose it, but in a nutshell, it's because it's easy to install, looks great, was inexpensive, and because I've used groutable peel and stick vinyl tile several times, I knew that it would be durable.  Since we've had this kind of tile in two rooms in our home now, one for over a year and one for 2.5 years, I thought it would be good to write an update about my honest feelings about this stuff and how it's holding up.
Groutable peel and stick vinyl tile, room by room
*affiliate links for your convenience
The bathroom
This is the tile we used in our bathroom: (looks like it is sold out right now though, but I'm keeping it linked in case of a restock!)
Here's what it looks like on a bigger scale in a room (this is from the Lowes website):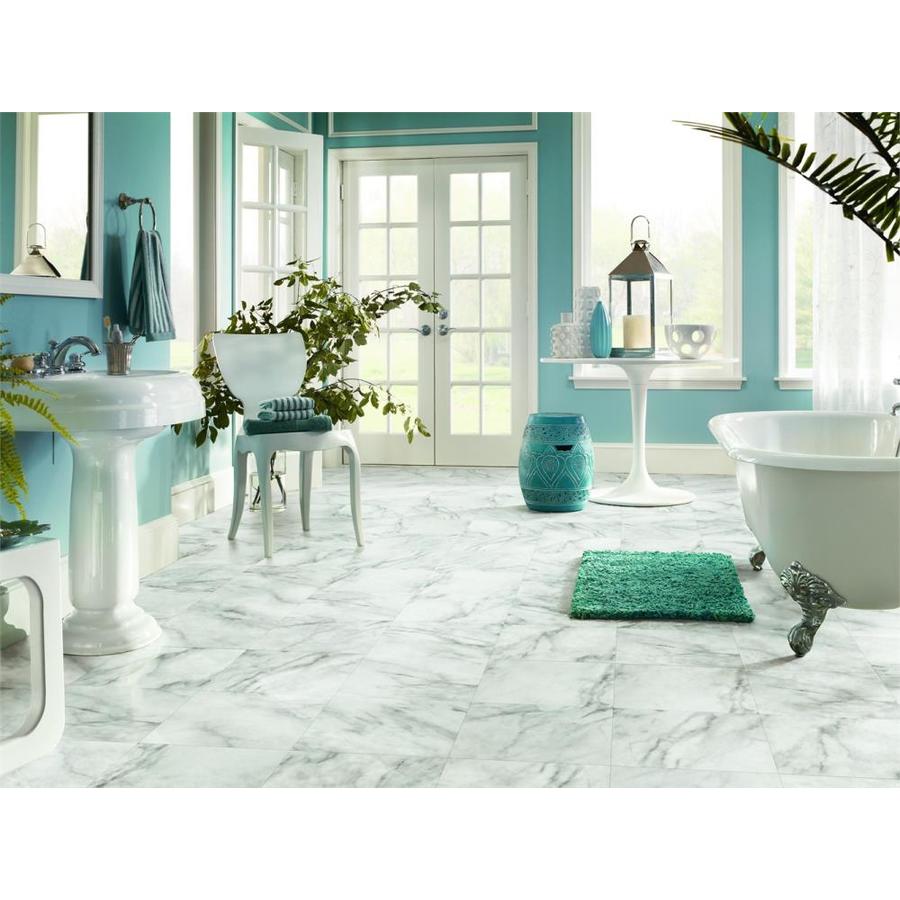 And here's what it looks like in our bathroom.  You can see that we grouted between ours, while in the Lowe's pic, they just installed them head to head. I think either is a beautiful look.
We installed this tile in our bathroom right after we moved in, so around 2.5 years ago.  This is our only full bath in the house, so it gets tons of traffic.  It also gets a lot of water on the floor, because the boys are not the neatest shower-takers.  Often, I'll find wet towels on the floor and the bathmat soaking wet (why are boys so messy?).  We used a gray grout between the tiles, both for looks and because I knew white grout on a bathroom floor would probably be a recipe for disaster. I definitely don't want to spend all of my time cleaning white grout.  And, true confession, I totally forgot to seal that grout.
Positives
Despite the high traffic and the frequent dampness, this tile and the grout have held up great.  It hasn't shifted, risen up, or cracked, and the grout is still in great condition.  The edges aren't curling or rising. It's quiet to walk on, and I love the matte finish, which still looks good and hasn't stained at all- important for such a light colored tile.  No scuffs or anything like that (and we do wear our shoes in the house).
Plus, the floor in that space is not even (nothing wrong with it, just part of having an old house) and the tile was super easy to install on an uneven floor.  I think if we had used a harder surface in there, we would have had serious issues getting it to lie down straight.  That wasn't a problem at all with this tile.
Negatives
It can be hard to clean sometimes.  The finish is not stain resistant, so if the boys make a mess, it's not always to easiest to clean up.  My 8 year old uses a lot of colored stuff (markers, slime, etc.) and sometimes it will end up on the floor for who knows what reason.  While I've been able to get any stains up, it's not without effort.  And it looks dingy fairly often until I mop.  Thank heavens I didn't use white grout- that would have been a bear to keep clean in a bathroom with messy boys.
Overall
I can definitely recommend this groutable peel and stick vinyl tile for use in a high traffic bathroom!  It's pretty and durable.  Plus, inexpensive and easy to install.  I'd call that a win!
The bedroom
This is the tile we used in the bedroom:
It's a luxury groutable peel and stick vinyl tile.  Here's a picture of how it looks on the Lowes website:
And here's a picture of how it looks after we installed it:
This picture totally washed out the true color, which is much more like the picture on the Lowe's website.  Really, pay no attention to the color in the pic above.  It's definitely a dark tile.  The Lowes picture is a much more accurate representation of the true color. 
These tiles are in W's room.  It gets a lot of abuse from him (he's 16 years old, BTW), but it's not a super high traffic area of our house. But he definitely doesn't baby it. I think we've re-arranged the furniture in there a few times since we finished this project, and we just slide it around on the tile.
Positives
In addition to being a fairly easy DIY project (even with the herringbone pattern), this tile has held up great.  It has stayed put- no rising, curling edges, or anything like that.  The grout is still doing great.  It's not cracking, and actually hasn't stained at all-something I worried about using the light color in that space.  The tile itself hasn't scratched, faded, or stained.
Negatives
It can look a little cold in a bedroom.  We ended up putting down an area rug in there just to visually warm the room up a little bit.
I honestly can't think of any other negatives.
Overall
Although I wasn't sure how I would like groutable peel and stick vinyl tile in a bedroom, it has been great!  It's such a great choice for a room that you know will get some abuse.  I am highly considering using some version of this tile (maybe in a lighter color) for our kitchen, laundry, and mudroom.
Final thoughts on groutable peel and stick vinyl tile
This is a product that I can highly recommend.  It's easy to install, inexpensive, and durable.  Winner winner chicken dinner!
P.S. I know a lot of you liked that bathroom tile- sorry it is sold out 🙁  Here are a few others (all groutable peel and stick) that I love the look of (haven't tried yet though) that are as affordable that you might like too.  Most of these are Lowes- I found they have the best selection-by far- at an affordable price point 🙂